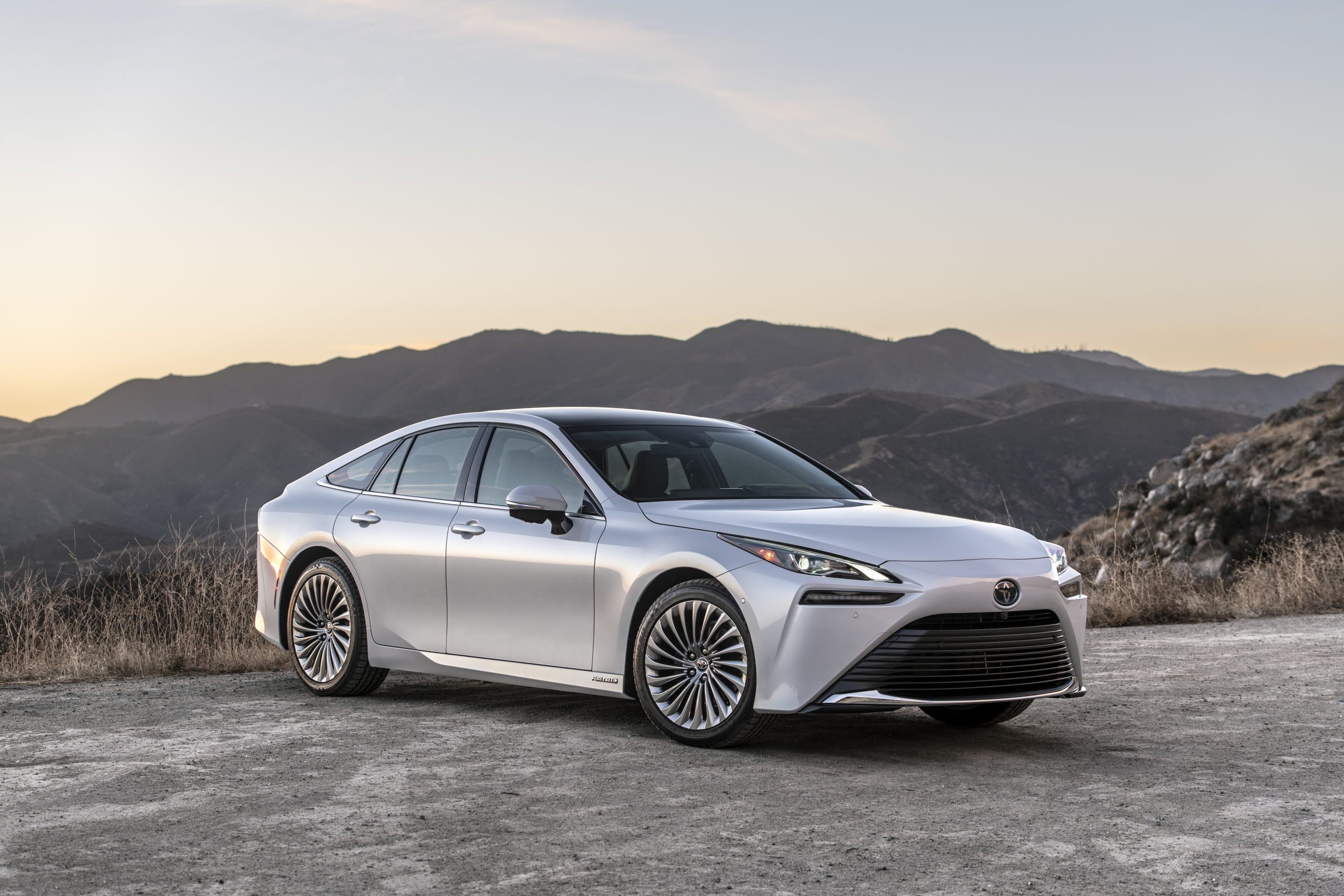 Thursday, 22 December, 2022
Hydrogen-Powered Cars: Fuel Cell Electric Cars Explained 
With the automotive world rapidly evolving, Toyota remains committed to staying abreast of, if not even preceding, these shifts! In this blog, we will tackle the latest auto trend that promises to considerably resonate in the future - hydrogen cars, which are essentially electric vehicles operating on fuel cells.
The topic is not as complex as it may seem. By the end of this blog, you will find yourself an expert on hydrogen cars and capable of discussing the subject with anyone interested in purchasing the latest and best electric cars, especially those produced by Toyota.
What are hydrogen fuel cell cars?
They are cars that rely on hydrogen or hydrogen fuel cells, not gasoline, to release energy that powers an engine, producing water vapor instead of carbon dioxide, which makes them eco-friendly. Emphasizing its social and environmental responsibility, Toyota has started manufacturing this type of electric car to help protect our planet and guard our health and safety.
Now that you know what hydrogen fuel cell electric cars are, let's understand how they work.
The cars operate by compressing hydrogen gas and converting the generated chemical energy into electrical energy, which then powers the engine at high speed and efficiency - as it would with gasoline but without carbon dioxide emitting through the exhaust.
The anatomy of the fuel cell is similar to a battery, with hydrogen entering the anode, where it contacts a catalyst that enables the separation of hydrogen atoms into electrons and protons. The electrons are grouped by the conductive current collector, which is linked to the car's high-voltage circuitry, feeding the onboard battery and/or motor that turns the wheels of this advanced electric vehicle.
What are the benefits of hydrogen fuel cell cars?
Like any electric vehicle, the key advantage to owning a hydrogen fuel cell car is that it does not release pollutants into the air, living up to its environmentally friendly reputation. Other benefits include:
•Instant torque and smooth, consistent power
• Advanced technology
• Low maintenance
• Fast refueling (3-5 minutes)
• Access to carpool lanes and other advantages
• Suitable prices, sometimes with free maintenance and fuel supply
Performance of Hydrogen Cars
If you're wondering about the performance of hydrogen fuel cell cars, they offer a smoother and quieter driving experience, not to mention they are far more energy efficient and do not emit air pollutants. Moreover, their performance takes after gasoline-powered cars in terms of sturdy on-road driving and varying speeds.
Pricing of Hydrogen Cars
With regards to pricing, hydrogen cars are characterized by their low running expenses in the long term, as they often come with free fuel packages, compensation and service and maintenance incentives, which equate their cost to regular electric cars.
Fueling of Hydrogen Cars
Hydrogen fuel cell cars can travel between 480-640 km, and their tanks can be refilled as quickly as a standard car (just 3-5 minutes). Hydrogen fueling stations can be found in many countries worldwide, even at regular gas stations. The fueling process uses dispensers similar to traditional gas dispensers but with an altered hose and nozzle.
Showcasing Prominent Toyota Hydrogen Cars:
Toyota Mirai 2022
The 2022 Toyota Mirai is powered by a fuel cell electric powertrain and electric motor that generates 182 horsepower, all of which is sent through a single-speed transmission to the rear wheels, in addition to 300 Nm. The car accelerates from 0-100 km/hour in 9.1 seconds and reaches a top speed of 170 km/hour, with an engine linked to a 1.2 kWh lithium-ion battery pack.
The 2022 Toyota Mirai is equipped with integrated safety and security systems to provide best-in-class comfort and luxury for everyone on board. These include:
Automatic Braking
Blind Spot Monitor 
Pedestrian Detection  
Lane Departure Alert 
Electronic Stability Control 
Toyota GR Yaris
Toyota's launch of this environmentally friendly model reaffirms its commitment to developing more zero-emission hydrogen cars in order to match the clean energy transition efforts of leading auto brands that manufacture electric and hydrogen cars.
The turbocharged 1.6-liter three-cylinder G16E-GTS engine is closely related to the one on the production-spec GR Yaris, but features a modified fuel supply and injection system to burn hydrogen. 
Besides eliminating most of the harmful emissions produced by gasoline, hydrogen burns faster, making the experimental engine more responsive. Another advantage is that the car retains most of the characteristics of an internal combustion engine (ICE), including the raspy sound. Visually, the model doesn't stray much from the Toyota GR Yaris we all know and love, in addition to the appealing design of its powertrain.
If this model is successful, Toyota plans on launching a hydrogen version of another world-famous model, the Prius, by 2025.
Now that you are well informed about Toyota hydrogen fuel cell electric cars, we invite you to visit the Markazia Toyota showroom on Mecca Street to discover the newest Toyota electric and hybrid cars available and find the one that best suits your needs!
Frequently Asked Questions 
Are there any hydrogen fuel cell cars?
Hydrogen fuel cell cars have been selling in the market since 2015. Toyota Mirai is one of the most popular models and the world's first mass produced fuel cell electric vehicle. Toyota will soon launch more hydron fuel cell cars in the future.  
Do electric cars use fuel cells?
Like a fully electric vehicle, a fuel cell electric vehicle (FCEV) uses electricity to power an electric motor. Unlike other electric vehicles, FCEVs use hydrogen-powered fuel cells to generate electricity rather than drawing power from batteries.  
What is hydrogen technology for cars?
A fuel cell vehicle (FCEV) runs on hydrogen. It is more efficient than conventional internal combustion engine vehicles and produces no tailpipe emissions. It just expels water vapor and warm air.