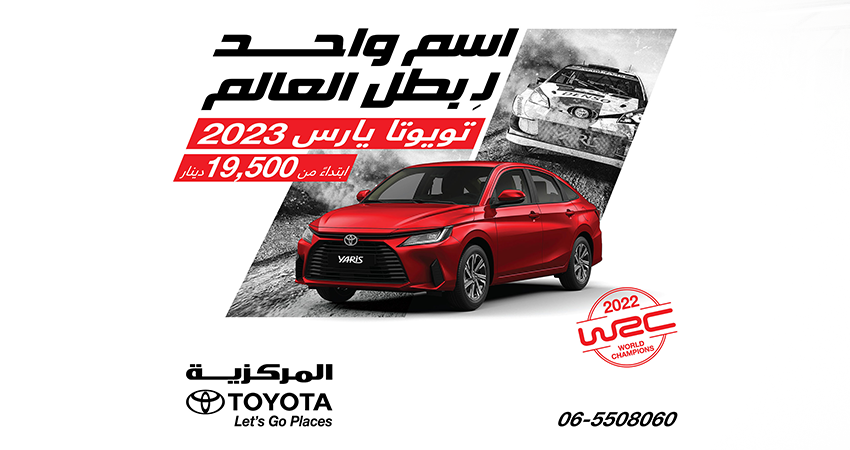 Sunday, 13 November, 2022
Amman, November 2022: Markazia Toyota is launching the all-new Toyota Yaris 2023 in Jordan at a competitive price starting at JOD 19,500 - presenting young customers with the chance to stand out from the crowd with its unique presence and performance. The model belongs to the Yaris lineup, which continues to shine at some of the world's most prestigious racing competitions, with the Hybrid Toyota GR Yaris Rally1  emerging as the grand title winner of the World Rally Championship in 2018, 2021 and 2022.
Promising a dynamic driving experience, the all-new Toyota Yaris 2023 comes with a choice of two engine sizes. The 1.3-liter capacity engine provides an ideal balance between power and fuel efficiency, generating 97 horsepower and 122 Nm of torque with outstanding fuel consumption of 22.4 km/l. On the other hand, the 1.5-liter capacity engine delivers smooth acceleration and quick response, producing 105 horsepower and 138 Nm of torque with fuel consumption of 20.5 km/l. Both engine options are paired with Continuously Variable Transmission (CVT), which simulates a seven-speed sequential shift transmission to deliver powerful, smooth acceleration from start-off and at low speeds, as well as quiet, efficient transmission at higher speeds with excellent fuel efficiency.
With its striking interior and exterior design, multi-feature passenger compartment and ultra-precise driving dynamics, the all-new Toyota Yaris 2023 once again strikes a balance between class-leading aesthetics and engineering. Complementing its attractive and sleek exterior, the spacious cabin of the model is designed to provide greater comfort and convenience for both the driver and passengers, hosting a range of practical features - including an 8-inch multimedia screen with Apple CarPlay and Android Auto; a four- or six-speaker sound system; and an automatic air conditioning system with two rear vents for extra passenger comfort.
As with all Toyota models, safety and peace of mind remain a top priority. The safety system of the all-new Toyota Yaris 2023 is supported by Toyota Safety Sense; an advanced safety technology package that comprises a Pre-Collision System (PCS), Adaptive Cruise Control (ACC), Lane Departure Alert (LDA), Lane Departure Prevention (LDP) and Automatic High Beam (AHB), in addition to a new Front Departure Alert (FDA) feature that gives drivers a visual and audible warning when a stationary vehicle in front begins to move forward, making the car especially suited to stop-and-go traffic in urban areas.
Customers interested in owning the championship-winning, all-new Toyota Yaris 2023 can visit the Markazia Toyota showroom located on Mecca Street, Amman; call 06-5508060; or chat with Yota BOT via WhatsApp at 06-5508080.